There are a dozen reasons I could give you as to why I love being a photographer, dear reader; I enjoy making art from life and my view of the world…I enjoy the challenge of getting "the shot"…I love being able to freeze moments in time so that they can be enjoyed in the years to come…I love being able to make a living doing what I love.   But none of that matters.
I don't consciously think about it all the time, but I've always known the importance of my job as a photographer. I've always known, but never more so than with the wedding of Amy and James. Their wedding day is a two-part story; part 1 takes place in the winter, and part 2 takes place in the spring.
Originally set for May 15th, I got a call a few days before Christmas that wedding plans were changed; Amy's mom had been diagnosed with terminal cancer. There was no way of knowing if she would be able to make it until May, and so, not wanting to take any chances that she might miss this important event, Amy and James held their ceremony on a beautiful, cold afternoon the day after New Year's, surrounded by a handful of family members at the Level Green Presbyterian Church in Trafford, PA.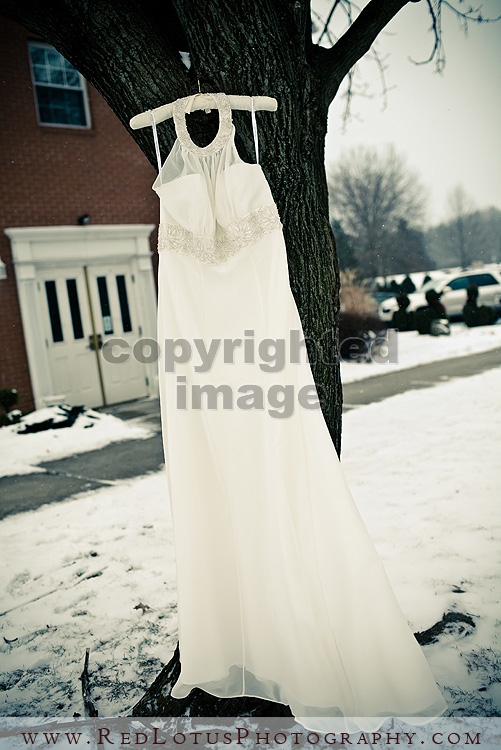 Amy has a wedding photo of her mom in this very same pose, which we recreated.


Such a pretty mix of colors in her bouquet.




The flower girl was such a cutie–she gave me a run for my money as she bolted down the aisle like a little rabbit.




After the ceremony there were both smiles and tears.






It was a little bit cold outside, to say the least.  We decided to save the outdoor photos for the warmer weather in May; my faithful second shooter Amy was kind enough to stand out in the freezing cold and hold the door open so that I could have some nice lighting for this portrait.  Thanks, Amy!






Amy's mom passed away just a few weeks after the wedding.  I felt a deep sense of honor that I was able to capture these memories for their family.


.
.
Part 2:  The Reception.  A couple of hours before the reception Amy, Jim, my second shooter Kelly, and I spent some time at the University of Pittsburgh campus in Greensburg.


I'm torn; I can't decide which version of these next three images I like better, the vintage or the original.  What do you think?  Leave me some blog love and comment below!
#1
Vintage:


Original processing:


#2


#3
Slightly Vintage:


Original Processing:
















The reception was held at Ferrante's Lakeview in Greensburg.


Amy and James put on a slide show for their guests that included photos I took at the ceremony.


A donation was made to the American Cancer Society in honor of Amy's mom.






What a ham!




I wish I could have heard what she said to make him laugh like this.




I was quite impressed with this guy in front, who managed to get down low and drink from his glass without spilling a drop.


And one last kiss goodnight…


Amy and Jim, thank you so much for allowing me to be a part of your two special days!