Engaged photoshoot? Red Lotus' Engaged Photoshoot session is able to capture your engagement photos like no other. Ideas for your outfits/dress and overall picture staging will be discussed.
Amanda & Andrew | Engaged
Slow but steady, dear reader–I am catching up on all my blogging.  Here are some pics from an awesome engagement/couple session with Amanda and Andrew taken late summer.   Ahh, summer…it seems ever so long ago….
These two love birds are so fun to be around; their quick sense of humor and playful banter just made me smile the whole time.  Amanda has a blog that I follow called Cusp of Normal; she is such a talented writer whose articles never fail to entertain.
.

.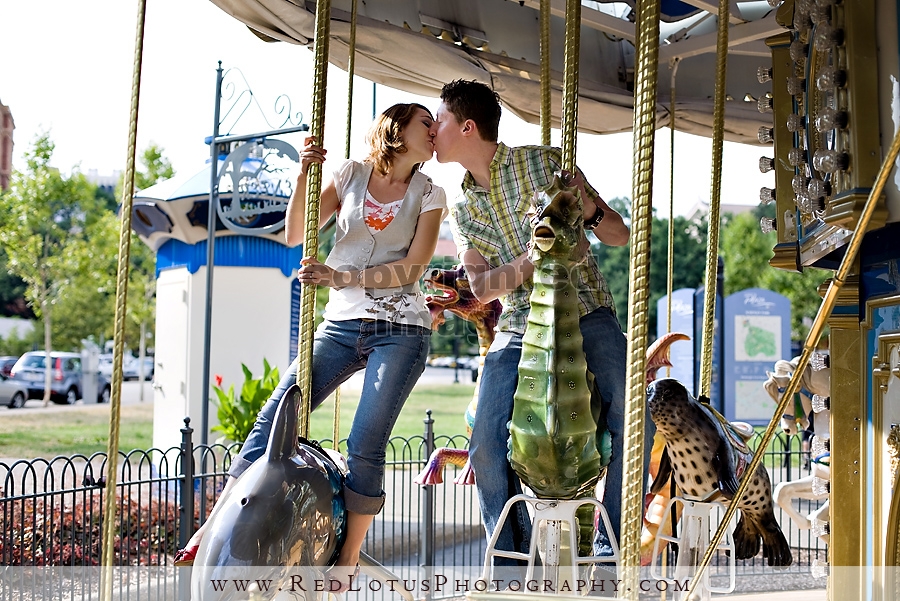 .

.


.


.
Love this shot of them high-fiving by Dippy the Dinosaur.


.
Amanda is a master of thumb wrestling.  Don't mess with her.


.


.
Are these two not the cutest couple you have ever seen?


.
Favorite from the day.


.


.


.


.


.


.
.


.


.


.


.


.


.


.
What is it about colorful doorways that I love so much?  I don't know, but when I find them it makes me just giddy.


.


Stay tuned for the next blog post–Amanda and Andrew: The Wedding!
What to wear engagement photos?
1. Complement each other, but don't match.
2. Wear clothes that make you feel like you.
3. Opt for classic rather than trendy looks.
4. Stick with two outfits.
5. Flatter your body type.
6. Choose pastels, cool colors, and neutral tones.
7. Tie everything together with a color scheme.
8. Incorporate at least one accessory.
Where to take engagement photos?
1. Downtown Pittsburgh & Mellon Square.
2. Convention Center & City Side River Walk.
3. Mellon Park.
4. North Shore & Clemente Bridge.
5. Point State Park and The Point.
6. The Rotunda at The Pennsylvanian.
7. CMU Columns & Cathedral of Learning.
When do you do engagement photos?
Engagement photos should be taken within 1-2 months of getting engaged before you get carried away with wedding planning. After you get engaged, you should hire a photographer right away to take your engagement photos so you don't have to worry about them later on in the wedding journey. In some cases, you might even consider having a photographer capture the actual moment.
What are engagement photos?
Engagement photos are more than fun snapshots; they're one of the first mile markers in your wedding planning journey. This fun, low-stress photo session is like a wedding-day dry run. You'll learn to perfect all sorts of flattering poses while capturing save-the-date and wedding-website content in the process.
How long do engagement photos take?
Depending on travel time to your various locations, an engagement session is typically anywhere between 1-3 hours.
Who pays for engagement photos?
Traditionally, the Bride's Family Pays for:
Services of a wedding consultant. The bridal attire and trousseau. Photography for the engagements, bridal portraits, ceremony and reception. Flowers for the church, reception and the bridesmaids.
How to take engagement photos yourself?
Invest in a tripod and remote – In addition to having a decent camera (DSLR or better), you'll also want to make sure you have a tripod and a remote shutter release. The tripod will hold your camera in place, while the remote shutter release will allow you to take the photo discreetly by simply pressing a button.
Why take engagement photos?
Engagement photos are a once-in-a-lifetime opportunity to capture the sense of joy and excitement before marrying the one you love. But perhaps more importantly, they're an opportunity to get to know your photographer and to loosen up in front of the camera before the big day comes around.
How much are engagement pictures?
Most engagement shoots cost anything from $200-$500 on average for a package that includes one outfit and 1-2 locations. However, the average cost for engagement photos depends on where you live, project details, and your photographer's popularity.